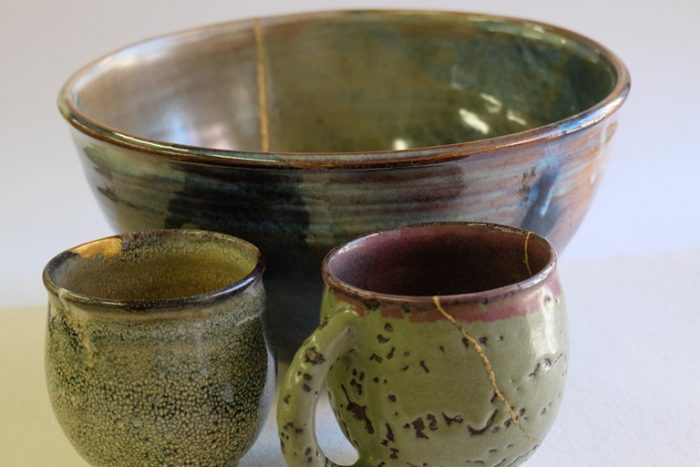 The kintsugi would have appeared to the end of the XVth century. Shogun Ashikaga Yoshimasa (on 1435-1490) having broken its bowl with favorite tea, emitted the wish to see this last repaired. The bowl was then sent back in China from where it resulted. The bowl having returned repaired by metallic clips, the Japanese craftsmen would have looked for a way of more esthetic repair. Kintsugi had been born.
It is of a philosophy which takes into account the past of the object, its history and thus the possible accidents which it was able to know. A broken ceramic does not mean anymore its end or its pose in a shop window, but a revival, the beginning of a new cycle and a continuity in its use. Thus it is not a question of hiding the repairs, but of putting these in value.
       We practise the Japanese traditional technique of restoration of Kintsugi.
      Our lacquer comes from Japan and we use some real gold dust. So restored ceramic can be again used. Even if elements of ceramic are missing, we reconstitute them in the lacquer ( urushi ). Quite my raw materials (urushi, tonoko.) necessary for the realization of the kintsugi come from Japan.
       If your object was restored in the past in a not ethical way (hooks, toxic glues.) we can establish a protocol of restoration to return its integrity to your work.
We also practise the technique of the kintsugi on the stone, the marble,  the glass.